So You Think You Know Maine?..Think Again
"You can get there from here!"
Maine is conveniently located just 2 hours from Boston with rail service expected to begin in 2000. With two international airports and one of the country's finest turnpike systems, you can always get there from here.
"If you want a real snow job, you'll have to shovel off to Buffalo"
While there's enough snow to please the winter enthusiasts this is one instance where we don't live up to our reputation. Maine can't hold a shovel to places like Buffalo, Minneapolis or Madison, Wisconsin. We have quite mild and manageable winters since most of Maine's major population centers are on similar latitudes of cities such as Detroit, Chicago and Portland, Oregon.
"You'll catch the biggest waves in Maine"
Maybe our ocean waves would leave a California surferboy snickering, but when it comes to surfing the internet Maine is riding high on the crest of new technology by being the first state with high speed cable modem acess as well as having the most advanced fiber optic network in the country. Maine was the first state in the nation to have every school and library wired to the internet. Surf's up, dude!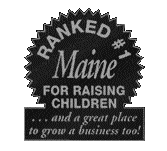 "Maine named the #1 place to raise your kids"
Maine is the best state in the nation to raise children, according to the Children's Rights Council, a national advocacy group based in Washington, D.C. The report measured rates of abuse and neglect, the high school drop out rates, children in poverty, child and infant mortality rates, juvenile crime, the divorce rate and teen birth rate. Maine...the way life should be for raising kids.
"Maine's Education goes to the head of the class"
Maine's report card on education is looking like an honor student's these days. The state was second in Education Week magazine's rankings in the quality of school climate. Factors contributing to the score are small class size, safety, high attendance rate and strong community involvement. When it comes to a quality education, Maine really makes the grade.
"You'll be stepping out in style"
Year round, Maine boasts an extraordinary number of exciting and sophisticated dining, cultural, and entertainment venues to choose from. Did you know that Maine claims one of the few 5 star Michelin restaurants in the world? Maine offers world class symphonies, professional theater, dance and museums of every stripe in every town. From Bach to Beck, you'll find Maine has everything you're looking for.